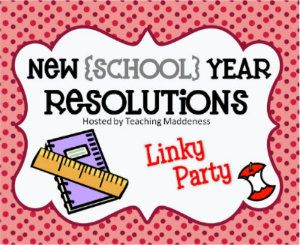 Resolutions can be tough to keep. So mine are pretty simple: 1.Here is a quote that my best friend's Dad always said to us as we are pursuing our teaching career: "Plan you work. Work your plan."
*My hope is to plan ahead of time..and not spend an entire Sunday planning for my week ahead.
2."Electricity is just organized lightening." by George Carlin
*So I am going to be like lightening this school year and not have a pile or two on my work table. Everything will try to be put in its place by the end of the day.
.
3."Never let the fear of striking out get in your way." Babe Ruth
*I am going to continue to approach administration with ideas that continue to swarm in my head. It never hurts to just ask...he may just say yes!
So if you
RESOLVE to do something this year, why not "Link Up with Amanda from http://www.teachingmaddeness.com/. Good luck with your resolutions.:)